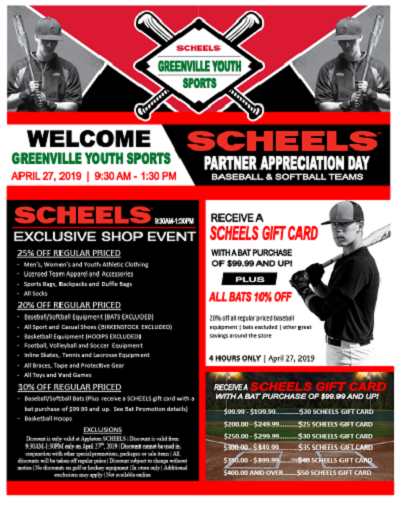 To all Greenville Youth Sports participants age 4 through 6, and your families:
We are entering our second of a five year partnership between Greenville Youth Sports and Scheels! This means Scheels will purchase and provide the t-shirts for the season; co-logo a hat for boys and headband for girls and host a Greenville Youth Sports shopping day in the Scheels store.
The Greenville Youth Sports shopping day is scheduled for Saturday, April 27 from 9:30 to 1:30. See the attached flyers for details. Scheels is offering many discounts for Greenville Youth Sports during this event. The discounts are only good during this event. Kids will receive their t-shirt and hat/headband for this season at the event. Due to the number of kids in our program, we will split the leagues into four time slots. Watch for more details on your time slot.
Stop at the welcome table in the main entrance of the store for more information when you arrive. This is a great opportunity for Greenville Youth Sports and we look forward to this partnership with Scheels!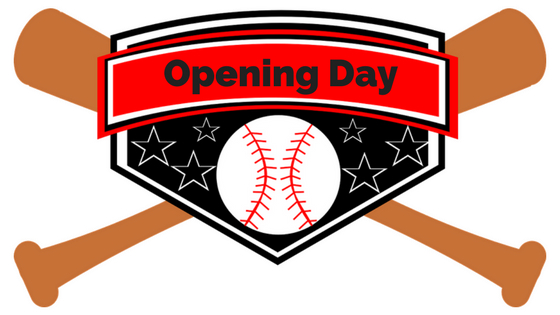 League Opening Day (except for TeeBall and PeeWee TeeBall)
May 4
Opening day schedules have been posted. If you did not make it to our SCHEELS event day to get your jersey, hat or headband the jerseys will be available from your coach. Hats and headbands will be available in the concession stand on opening day.
__________________________________________________________________________

New League Tournament format for 2019
New for 2019 we will be reformatting the league tournament so that it is occurs during two days (July 19-20) with all Championship games being played on Saturday, July 20,

mark your calendars!
Click below on a league bracket to see tentative game times and dates.






__________________________________________________________________________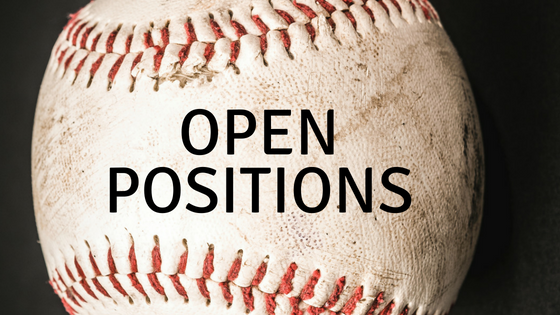 Greenville Youth Sports is run by a board of volunteers. We appreciate and rely on everyone's time and talents.
We are currently seeking to fill the following board positions:
- Sponsorship Coordinator
If you are interested in learning more and would consider filling one of these roles, please email the GYS President.
________________________________________________________________________________

GYS and HYS are accepting coaching applications for our combined Polar Bear teams for our 13U to 18U. These teams compete in the Fox Valley Youth Baseball League. The 13UAA, 14UAA and 18UAA teams play a 14 game league schedule along with a limited tournament schedule. Priority will be given to non-parent coaches at these levels. All coaches must be approved by the Hortonville high school head baseball coach.The 14u and 18UAA teams play a full league schedule in the FVYBL along with a year end league tournament. Parent coaches are welcome at these levels. The season for 13UAA, 14UA and 14UAA teams begin in early April. Both 18UA and 18UAA teams seasons begin after the high season in late May. Please contact Scott Schanhofer at sschanhofer@ymcafoxcities.org if you are interested in coaching or have further questions.